Are you seeing 11:11 ? GET READY – GOD IS ABOUT TO MOVE BIG ON YOUR LIFE AND HOUSEHOLD!!
Are you seeing 11:11 ? GET READY – GOD IS ABOUT TO MOVE BIG ON YOUR LIFE AND HOUSEHOLD!!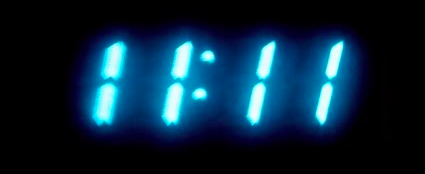 Today is 11/11 many of us see this number repeatedly. The Holy Spirit communicates to us through numbers that align with scripture. I have learned to walk and talk with the Lord by the way He shows me repeated numbers. When you see 11:11 repeatedly it's a message to pay attention. That God wants to get your attention and it means its a time to awaken to His plans and purposes for you. It's a sign of awakening, transition into the new and also a number for your heroic purpose for the kingdom. Many times in the Bible the number 11 will be marking people of great faith in whom God did great miracles in their lives because they believed. He is going to be Birthing a New thing in you! Such as the chapter of Hebrews 11. It's also a sign that multiplication is coming to you – God is taking you right where you are and multiplying you for the greater good of what He has called you to do.
I see 11:11 when God is getting ready to take me to another level, transition me into a promise and multiply something in my life miraculously. This has happened to me many times. This is not "numerology" that is not of God. However we serve a God who is all about being mathematic and strategic and speaking through numbers to His people – especially in His word. I believe on this date 11/11/18 we can expect a great awakening and deliverance for the Body of Christ – since the number 18 also means 'bondage' I believe that many are going to be "awakened" and loosed from the bondage that has been holding them back from achieving God's plans and purposes for their lives – and many in your family who you have been praying for salvation shall come to Christ. I feel the shift today especially for 'freedom' and I feel many who have not been able to see clearly what God's plan is for their lives will begin to see and be activated powerfully! whoo hooo!!
11:11 Means Awakening:
John 11:11 New International Version (NIV)
11 After he had said this, he went on to tell them, "Our friend Lazarus has fallen asleep; but I am going there to wake him up."
11:11 Means Transitioning into a New Promise:
Deuteronomy 11:11 New International Version (NIV)
11 But the land you are crossing the Jordan to take possession of is a land of mountains and valleys that drinks rain from heaven.
11:11 Means You Are Birthing a New Thing For God's Purposes (heroes of faith) Believe the impossible!
Hebrews 11:11 King James Version (KJV)
11 Through faith also Sara herself received strength to conceive seed, and was delivered of a child when she was past age, because she judged him faithful who had promised.
11:11 Means It's Timing For Your Family Members To Be Saved: (11/11/18) TODAY'S DATE
Acts 11:11-18 King James Version (KJV)
11 And, behold, immediately there were three men already come unto the house where I was, sent from Caesarea unto me.
12 And the Spirit bade me go with them, nothing doubting. Moreover these six brethren accompanied me, and we entered into the man's house:
13 And he shewed us how he had seen an angel in his house, which stood and said unto him, Send men to Joppa, and call for Simon, whose surname is Peter;
14 Who shall tell thee words, whereby thou and all thy house shall be saved.
15 And as I began to speak, the Holy Ghost fell on them, as on us at the beginning.
16 Then remembered I the word of the Lord, how that he said, John indeed baptized with water; but ye shall be baptized with the Holy Ghost.
17 Forasmuch then as God gave them the like gift as he did unto us, who believed on the Lord Jesus Christ; what was I, that I could withstand God?
18 When they heard these things, they held their peace, and glorified God, saying, Then hath God also to the Gentiles granted repentance unto life.
Praise GOD!!!!! I am so excited to see what He is about to do!!  I LOVE how God Speaks to us through numbers! Pay attention to what numbers God is showing you and RECEIVE IT!!