Faith At Full Speed
Faith At Full Speed
ORDER ANNAMARIE'S NEW BOOK AND VIDEO TEACHING:  Faith At Full Speed 
YOUR HIGH HORSEPOWER MANUAL TO SUCCESS!
Activating and Accelerating Faith to Reach Your Goals and Achieve Your Dreams at Record Speed
By: Annamarie Strawhand #faithfullspeed
IN THIS BOOK AND TEACHING ANNAMARIE SHOWS YOU THE KEYS TO WINNING WITH YOUR DIVINE PURPOSE:
Discover exactly what God has designed you to be and do
How to build and activate your "race winning strategy"
Create the best team of people around you to propel you to victory
Get aligned with Heaven and hear God's voice directing you
Biblical strategies to overcome any obstacle quickly and accelerate you
Confidently claim your vision and successfully take it into the marketplace
Why God wants to "Sponsor" you and how to receive His unlimited funding
How to multiply your victories and become a champion at your purpose
Activation Prayers and Powerful Decrees In Each Chapter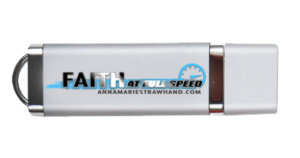 Order "Faith At Full Speed"   to receive your copy of the book! (Paperback/ 12 chapters / 577 pages) (Read excerpts here)
I am also offering an in- depth video teaching with my full "Faith At Full Speed Course" on a special keepsake Flash Drive! Complete with printable worksheets for you to personally discover and activate your divine gifts, reach your goals and financial breakthrough! 
ORDER ONLINE VIA PAYPAL >> Faith At Full Speed Book PLUS Flash Drive Digital Course ($33.33) Plus $10 Shipping/Handling Continental USA (SOLD OUT)
ORDER ONLINE VIA PAYPAL >> Faith At Full Speed – Book Only  ($22.22)Plus $10 Shipping/Handling  Continental USA (SOLD OUT)
FAITH AT FULL SPEED NOW AVAILABLE ON AMAZON CLICK HERE TO ORDER ON AMAZON
FAITH AT FULL SPEED NOW AVAILABLE ON GOOGLE BOOKS CLICK HERE TO ORDER ON GOOGLE BOOKS