Speaking and Teaching
Speaking and Teaching
Request Annamarie to speak and teach at your event!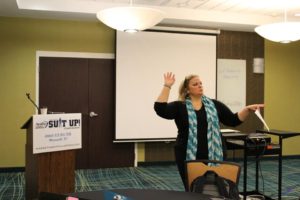 "If you choose to listen to a Motivational Speaker, they'll tickle your fancy, but if you invest in a Motivational Teacher, they'll leave you with resources that can be used to help take you further in the direction of your goals." -Unknown
This is what I consider myself to be when I speak at events, churches and conferences – a motivational teacher in FAITH.  I am a "Faith Coach".
It is my mission that after you experience my live teaching and speaking you come away with valuable information, step by step keys to activate what you learned – along with bible and prayer strategies – that you can immediately apply to move forward with your goals and be excited, inspired and motivated to do it with the help of the Holy Spirit!
I would be honored to be a speaker at your seminar or event. It is important to me that I add value to people's lives every day, speaking to large groups gives me the opportunity to do this for many. I offer a generous amount of valuable content for your attendees plus take-away materials. I have been a keynote speaker at many events and conferences and a guest on several radio and online TV shows across the country the last 15 years. Plus my own video faith teachings, daily encouragement on Facebook Live as well as my YouTube Channel online show.  Watch the video below for an example of my interactive faith teaching.

I enjoy teaching and speaking and consider it my greatest passion! I want to share my faith strategies and personal experiences with helping people grow bold in their faith and prosper in their true God-Given purposes and divinely appointed gifts!